Reading your book with your sunglasses on, or are you really scoping/admiring the people frolicking in the sea in front of you? I suspect we've all done this at some stage. So where are the best beaches in South America for people watching? Where do all the trendy, beautiful Latin locals spend there beach holidays?  Where can you go partying with them?
Here follows a list of the top 10 beach resort destinations for people watching - they're all also great places to actually meet well educated, local people - especially if you visit during the holiday seasons, New Years Eve or Easter Week (the most riotious times for nightlife).
1. Ipanema Beach, Rio de Janeiro, Brazil
Don't bother with the tacky neighbouring beach of Copacabana, Ipanema beach in Rio de Janeiro is where all the trendy locals spend their time.  Brazilians love showing off, and with plastic surgery so popular in the country, the potential for people watching in Rio de Janeiro is unsurpassed.
When to visit: Anytime in summer between September and April. 
2. San Andres Island, Colombia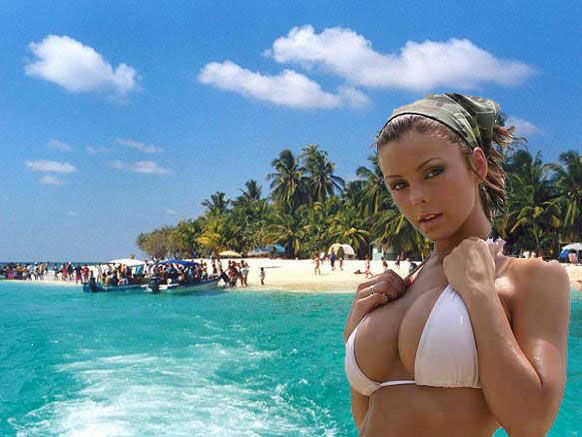 Colombian tourists just love the Caribbean island of San Andres, which is a two hour flight from the mainland (geographically, San Andres is just as close top Jamaica as Colombia).  The sea is described as having "seven shades of turquoise" in San Andres Island, plus the beaches consist of fine white sand and the nightlife can be buzzing.  Colombians are a very friendly and beautiful bunch of people, so the island of San Andres ranks as number 2.
When to visit: Mid December to Mid January, Easter Week, or mid June to late July. 
3. Santa Marta, Colombia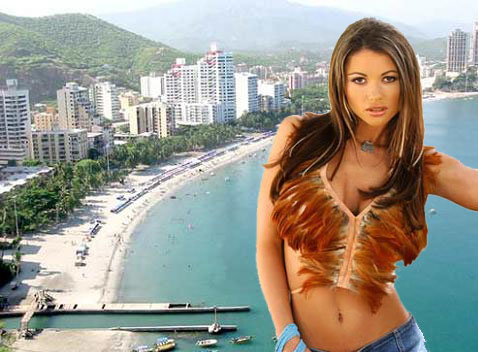 Santa Marta is a very popular tourist destination on the Caribbean coast of mainland of Colombia.  It ranks just behind San Andres as the beaches are better in San Andres, however the partying is better in Santa Marta, in part because more people visit.
When to visit: Mid December to Mid January, Easter Week, or mid June to late July.
4. Punta del Este, Uruguay
Punta del Este is full of rich, trendy Argentinians who love both beaches and partying - because the Argentinians don't have any particularly decent beaches in their own country, they all hop over the border to Uruguay.  It's quite a glamourous, almost glitzy resort that can be rather expensive.  There's plenty of very stylish hotels and nightclubs in Punta del Este.
When to visit: Summer time - December to April.
5. Margarita Island, Venezuela
Venezuelans' beach destination of choice is the Caribbean Island Isla Margarita.  There's many lovely beaches and no need to point out that the Venezuelans are very easy on the eye.  The island is also popular with Colombians, and there's charter flights available from Europe.
When to visit: Mid June to Mid September, December to April, especially so during carnival in February.
6. Buzios, Brazil
Buzios is a trendy resort a few hours drive from Rio. There's lots of stylish pousadas here, and plenty of well-off folk (generally 30-somethings) from Rio and elsewhere in Brazil often head here for their holidays.
When to visit: December to March.
7. Atacames, Ecuador
Atacames is possibly Ecuador's most buzzing beach resort.  Though the beaches aren't spectacular, the nightlife is riotious and people watching is great.  All manner of Ecuadoreans visit - it's not a particularly glamourous resort, but is none-the-less great for a taste of local culture (ahem).
When to visit: July to mid September,  Christmas to New Year,  Carnival in February and Easter week.
8. Morro de Sao Paulo, Brazil
Morro de Sao Paulo is a beautiful little island a short boat ride (or flight) from Salvador in North East Brazil. The beaches are lovely, the people beautiful, and the bare-foot beach parties wild if you visit in high season.
When to visit: Mid December to February, plus July.
9. Florianopolis / Santa Catalina Island, Brazil
Florianopolis is one of Brazil's trendier beach destinations, and is especially popular with surfers.  There's trendy people, trendy bars and a range of trendy hotels.
When to visit: Late December to early March, plus February's carnival.
10. Mancora, Peru
Peruvians flood to Mancora when the weather is good. There's great surfing, decent beaches and a buzzing nightlife here.
When to visit: Mid December to Mid March, plus Easter Week.